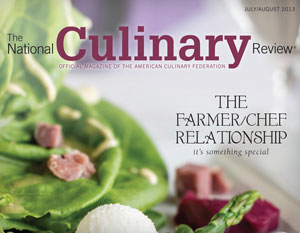 Shepherd to Chef: Aiming for great lamb on the plate? Befriend a farmer. – By Karen Weisburg
Guests are finding more lamb-centric menu items offered than ever before. Perhaps the dinner bill of fare features slow-cooked lamb shoulder served with carrots,pea shoots, dates, crispy farro and harissa yogurt at The Grocery in Charleston, S.C. There, executive chef/owner Kevin Johnson has created a warm gathering place with a menu showcasing the seasonal ingredients available from local farmers and fishermen. At Bourbon Steak in Washington, D.C., evening diners tuck into spicy North African style merguez sausage, as well as loin, rack and lamb-leg dishes created by executive chef John Critchley.
Craig Rogers, owner/shepherd of Border Springs Farm, Patrick Springs, Va., has 600 grass-fed, certified naturally grown Katahdin ewes and Texel rams roaming his 60-acre ranch. Several years ago, he began searching for chefs who could do justice to his lamb.