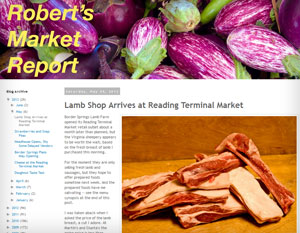 Lamb Shop Arrives at Reading Terminal Market – By Bob Libkind
Border Springs Lamb Farm opened its Reading Terminal Market retail outlet about a month later than planned, but the Virginia sheepery appears to be worth the wait, based on the fresh breast of lamb I purchased this morning.
For the moment they are only selling fresh lamb and sausages, but they hope to offer prepared foods sometime next week. And the prepared foods have me salivating — see the menu synopsis at the end of this post.